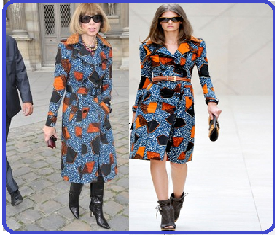 It seems that Anna Wintour is also getting in the African mood. The editor-in-chief of US Vogue was spotted during Paris Fashion Week in an African print trench coat by Burberry from their Prorsum Womens Spring/Summer 2012 collection.
Now how am I not so surprised? Although Anna looks smart in this African print trench coat I would have love the look more if she didn't put on does boots.
Share your thoughts here, does Anna Wintour look cute or cluttered in Prints?