Move over, bright eyeliner. We got a new make up trend for Spring 2012. Get ready for some seriously hot spring lip service.

As usual with spring collections, the beauty trends seen during this past fashion week were tame. Dewey skin, rosy cheeks and naked eyelids ruled the shows–but a daring few designers gave us something a bit more exciting… candy colored lips! There was cerulean and magenta at Richard Chai Love, lilac at Nanette Lepore, bubblegum pink at Milly, soft orange at J.Crew and magenta at Prabal Gurung (see picture below)


Above: Backstage at Nanette Lepore and Richard Chai Love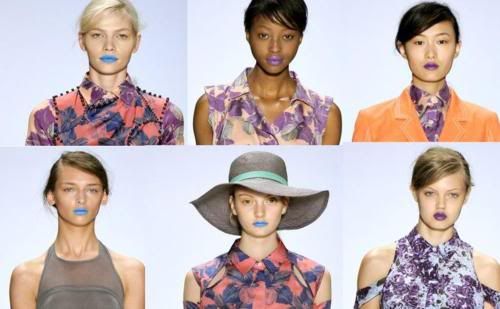 Above: Onstage at Richard Chai Love fashion show


Above: Backstage at Milly and J. Crew; Lush's Blubblegum scrub; Revlon's Just Bittenlipstain

From the look of things, it would seem as though fashion's favorite bad girls Nicki Minaj and Amber Rose–who have both been known to wear brilliant colored lips–have started a trend. Still, there is something a little unsettling about actually taking style advice from Miss Minaj. Is this a trend that should be left on the runway, or perhaps in a music video? Though it's certainly not a look for day to day life, we say try it!
Amber rocking blue and Nicki rocking pink!

I'm not going to lie, I'm digging the purple and pink. But the blue and yellow colour can stay in the box. But if you really want to make a statement why not.
But the colored lips can't work its magic without the right clothes! Pair it with some bright, neon pieces (see pictures above).
So ladies, what do you think? Will you partake in rainbow colored lips?