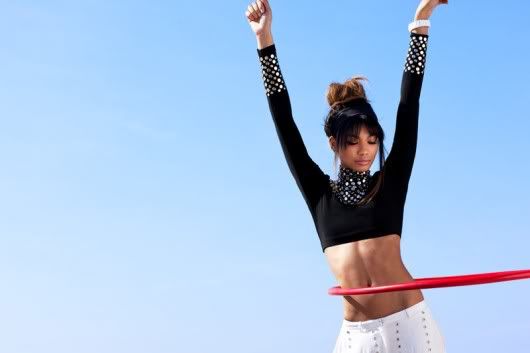 Researchers at the Exercise and Health Program at University of Wisconsin, La Crosse led by Jordan Holthusen, M.S. and John Porcari, Ph.D conducted a study of 16 advanced to intermediate female hoopers. And to their amazement, hula hooping expended similar calorie rates and raised heart rates similar to cardio kickboxing, step aerobics and boot camp classes. Although the researchers state that more studies need to be done to determine what the long-term fitness benefits to hooping will bring, one thing is for certain, when we have fun doing an activity we are more likely to participate in it. I always say something always trumps nothing, especially when it comes to exercise.
Below are a few tips on choosing the right hoop for you.
•Choose the right size for you--Make sure that when you place the hoop on the ground standing up that the hoop falls between your waist and your chest. Purchasing a smaller hoop will make hooping a little more challenging.
•Weighted Hoops--Just as a larger circumference hoop will be easier to use, same is true for a weighted hoop. Researchers state that adding some weight makes hooping easier, therefore you can continue the activity for a longer time period, however, you want to use a weight that offers a challenge.
•If you have a history of back problems, Hula Hooping is not for you. And as with any other exercise activity, if you have any concerns, please check with your physician.
Click on the links for Hula-Hoop exercises.
Are you gonna try it out?