We've been hearing and reading about all the behind-the-scenes drama of 'Basketball Wives 4′ from Jennifer Williams having a fight with former BFF Evelyn Lozada. Now we have some footage. It looks like Basketball wives season 4 is getting more uglier then it ever had before. Watch the trailer: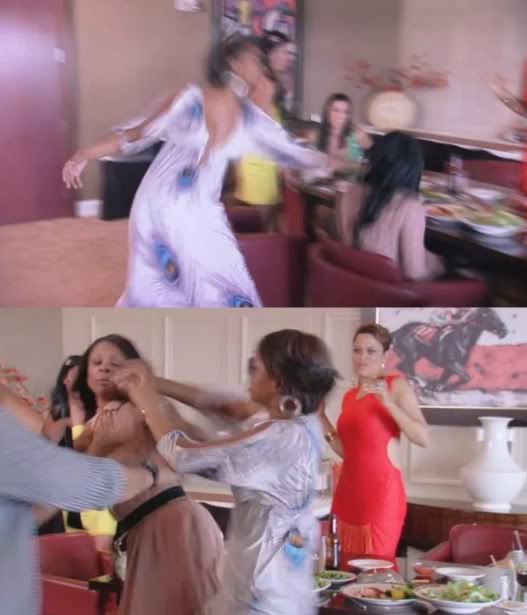 Tami is letting everyone know within the first few minutes that "the circle' is nothing but a straight line" this season. We can see why! Jen finds herself defending her face from people attacking her. After she got a drink tossed in her face and being involved in several fights with her co-stars on previous seasons, this season we see Jen get pimp slapped in the face by Evelyn's assistant Nia Crooks. Yes, THIS is where that recent lawsuit stems from. And if that wasn't enough, Evelyn jumped on the huge table like a wild animal to attack Jennifer herself directly after the slap.
Aside from the slap ups, Royce Reed is trying to get her theater career off the ground in NYC, Evelyn is trying to plan her wedding to Chad (while fighting with newcomer Kenya Bell who calls Evelyn a ho and Ev acting all crazy by picking up a bottle and chucked it straight towards her). And the other newcomer Kesha Nichols is trying to defend herself against the "ladies," and Shaunie O'Neal is still sitting around with the "OMG I'm in shock" face while doing nothing about the foolery. Men, we have all of this already and they don't even finish taping until March SMH!
Source: TheYBF